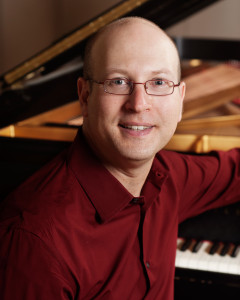 Omri Shimron's debut solo CD is out! Frederic Rzewski's "The People United Will Never Be Defeated!," 36 Variations on '¡EI Pueblo Unido Jamás Será Vencido!' has now been released on New Focus Recordings. Click here for the New Focus download page, which includes audio samples, liner notes, and credits.
The CD is also available for purchase on iTunes, Amazon, and Barnes & Noble.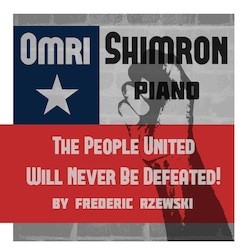 Omri Shimron is a pianist and educator based in Greensboro, North Carolina (USA).
On June 6, he performed  at Focus on Piano Literature, a biennial symposium held at the University of North Carolina, Greensboro. For more details and a link to a review, click here.
In July-August 2014, Shimron returned to the Rebecca Penneys Piano Festival, held at the University of South Florida, School of Music, where he taught an international group of advanced-level students, and performed a solo program that included  the music of C. P. E. Bach. He also joined artistic director and founder, Rebecca Penneys, and fellow faculty Johnandrew Slominski and Eunmi Ko for a program of 2-piano, 8-hand music.
Shimron is an associate professor at Elon University, where he teaches piano, group piano, and music theory. An active recitalist, Omri has been presenting solo programs annually, and enjoys collaborating with singers, instrumentalists, and chamber ensembles.
Omri's repertoire spans a wide range of styles. In August 2012, he recorded Rzewski's 36 Variations on "The People United Will Never Be Defeated!" and will commercially release this CD (including an original cadenza) in 2014. In 2010, Omri was a devotee of a new cycle for piano by Christopher Dietz, called Five Reflections on the Rubáiyát of Omar Khayyam. You can find audio of this last work (and others) on the Audio and Video pages.
In fall 2013 he presented a series of recitals with violist Kirsten Swanson at multiple locations in North Carolina (UNC Charlotte, UNC Greensboro, Elon University, Catawba College), with works by Prokofiev, Bach, and Pärt (together), and C.P.E. Bach and Brahms (solo). In November 2013 he performed a 2-piano, 8-hand concert at the Eastman School of Music's Faculty Artist Series.
In March 2014, Omri hosted composer Dan Asia for a 2-day symposium and recital at Elon University. During this event, he facilitated a panel discussion on the intersection of poetry and music in two of Asia's song cycles. Later that evening, he performed the "Amichai Songs" (with Tim Hill, bass-baritone), "Breath in a Ram's Horn" (with Timothy Sparks, tenor), and "Why (?) Jacob" with the Elon University Camerata, (Stephen Futrell, director).
Please explore this site and, if you'd like to get in touch or leave a comment, feel free to reach out through the Contact page.