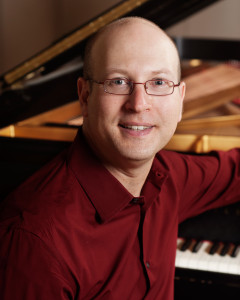 Omri Shimron is a pianist and educator based in Greensboro, North Carolina (USA).
In July-August 2013, Shimron taught at the inaugural Rebecca Penneys Piano Festival, held at the University of South Florida, School of Music, where he also presented a lecture-performance on the Brahms, Ballades, Op. 10.
He is an Associate Professor of Music at Elon University, where he teaches piano, piano class, and music theory. An active recitalist, Omri has been presenting solo programs annually, and enjoys collaborating with singers, instrumentalists, and chamber ensembles.
Omri's repertoire spans a wide range of styles. In August 2012, he recorded Rzewski's 36 Variations on "The People United Will Never Be Defeated!" and will commercially release this CD (including an original cadenza!) in 2013. In 2010, Omri was a devotee of a new cycle for piano by Christopher Dietz, called Five Reflections on the Rubáiyát of Omar Khayyam. You can find audio of this last work (and others) on the Audio and Video pages.
In fall 2013 he'll be presenting a joint recital with violist Kristen Swanson at several locations in North Carolina, with works by Prokofiev, Bach, and Pärt (together), and C.P.E. Bach and Brahms (solo). He'll also perform a 2-piano, 8-hand concert at the Eastman School of Music. In March 2014, Omri is hosting composer Dan Asia for a 2-day symposium and recital at Elon University, centered on two of Asia's song cycles (Amichai Songs and Breath in a Ram's Horn).
Please explore this site and, if you'd like to get in touch or leave a comment, feel free to reach out through the Contact page. Thanks.