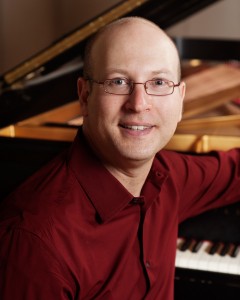 Omri Shimron is a pianist, educator, and recording artist. He was born in the United States but raised in Israel, where he received his early musical training. His debut album, featuring Frederic Rzewski's 36 Variations on 'The People United Will Never Be Defeated!' was released in July 2014 on New Focus Records. Since 2013, he has been on faculty at the Rebecca Penneys Piano Festival at the University of South Florida, Tampa.
As a pianist, he appeared at the Jerusalem Music Center, the Jerusalem Academy of Music and the Tel Aviv Museum. In the United States, he won prizes from the Josef Hoffman Piano Competition and the Chautauqua Institution. As an orchestral soloist, Shimron played with the Hillsdale College/Community Orchestra, the Finger Lakes Symphony, and the Elon University Orchestra. Collaborative and solo concerts have included appearances at the Kennedy Center's Millennium Stage and New York City's Sundays on the Island series. Live radio performances featured sessions for WBFO, WXXI, and WUSF stations.
An eclectic performer, Shimron's repertoire choices are traditional yet increasingly contemporary. In the past decade he premiered several new works by young composers such as Marco Alunno (Concerto for Piano and Ensemble, 2003), Christopher Brackel (Deploration for amplified harpsichord, electric viola and electronics), Ben Hackbarth (Lines of Communication, 2004) and Christopher Dietz (Five Reflections on the Rubáiyát of Omar Khayyam, 2009). Other recent projects include a commercial recording of David Lipten's trio Whorl on the Ablaze label, and performances of Israeli composer Menachem Wiesenberg's Metamorphosis II (2008) and George Crumb's Eine Kleine Mitternachtmusik (2002).
Outside the US, Shimron has participated in the Felicja Blumental International Music Festival in Tel Aviv, the American Conservatory's Summer School in Fontainebleau (France), and has presented recitals at Wolfson College (Oxford University) and the Bursa State Conservatory in Turkey. In 2008, he performed 'anisotropie', a new work for prepared piano by German composer Michael Quell, as guest artist at SoundsCAPE—a contemporary music festival in Italy. During the fall of 1997 he was a long-term resident at the Banff Centre for the Arts in Alberta.
In his piano teaching, Shimron embraces a holistic approach to music that integrates creativity and physical awareness with a historically informed approach to style and sound. His academic work focuses on analysis of tonal and post-tonal music, and performance studies. He has presented for the College Music Society and is a frequent guest recitalist and clinician in music departments in the US and abroad, including most recently: Eastern Carolina University, Gettysburg College, Winthrop University, Texas Woman's University, Arizona State University, Erskine College, and the Jerusalem Academy of Music. In 2012, he performed Rzewski's The People United Will Never Be Defeated! at Virginia Tech, Randolph College, and Duke University's Nelson Room.
Shimron earned his Bachelor of Arts degree in music from the University of Rochester (magna cum laude, Phi Beta Kappa, 1997), a Master of Music (Piano, 2000), a Master of Arts in Music Theory Pedagogy (2004), and a Doctor of Musical Arts degree in (Piano, 2004) from the Eastman School of Music where his primary mentors were Rebecca Penneys and Steven Laitz. Before relocating to California, Shimron taught at Elon University (NC), Hillsdale College (MI), and Eastern Mediterranean University on the island of Cyprus.