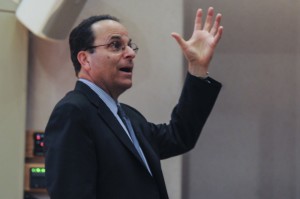 This past week I had the pleasure of hosting composer Daniel Asia for a two-day visit to Elon University. Dan is a professor of composition at the University of Arizona (Tucson) and a prolific composer who has written for a variety of performing forces. Last May, I had won a grant from Elon's Fund for Excellence in the Arts and Sciences, to host Dan and perform his music with colleagues.
As the visit's producer (and principal performer), I put together a lecture (by Asia), a pre-concert panel discussion, and a recital featuring three of Asia's vocal works.
The recital consisted of "Breath in a Ram's Horn", a song cycle for tenor and piano, based on texts by American poet Paul Pines. The lovely Timothy Sparks of UNC Chapel Hill sang, with yours truly at the piano. Second on the program was "Why (?) Jacob", a work for mixed choir, four speakers and piano solo, written in memory of a lost a friend. Here I collaborated with the Elon University Camerata (chamber choir) under the direction of my colleague Stephen A. Futrell (and me at the piano for the extensive solo). Finally, to conclude the program, Tim Hill (bass-baritone) and I collaborated on Asia's "Amichai Songs", a collection of six songs with text by prominent Israeli poet, Yehuda Amichai.
An hour before the concert began, I convened a panel to discuss Amichai's poetry (and Pines'), with Rabbi Steven Sager (Rabbi Emeritus at Temple Beth El in Durham, NC), Kevin Boyle (and Elon English professor and poet), Dan Asia, and myself (as facilitator). We explored themes of Jewish and Israeli identity in Amichai's (and Pines') poetry, and the way in which Asia set these texts to music.
Here's a link to an article from the Elon Pendulum (student newspaper) about a lecture Asia gave on Monday, March 3, 2014. The lecture was sponsored by the Lori and Eric Sklut Emerging Scholar in Jewish Studies Fund.
A view of the recital's final bow (from left to right, Omri Shimron, Dan Asia, Tim Hill).